ESM® is the registered trade name of the inner egg-shell membrane…
…that is obtained by mechanical action and subsequent washing and crushing. This process is natural, which means that ESM® is a 100% natural ingredient.
CHARACTERISTICS
Available from organic, free range and cage chickens

High protein & collagen content

Skin anti-aging

Improved joint flexibility & reduced pain
The ESM® eggshell membrane contains approximately 35% native collagen and about 6% glycosamino- glycans, including chondroitin sulphate, hyaluronic acid and keratan and dermatan sulphates. It also contains an appreciable amount of lysozyme, about 3.5%. In addition to collagen and glycosaminoglycans, ESM® also contains other active ingredients such as growth factors, structural proteins, ovotransferrin and various essential amino acids.
COMPOSITION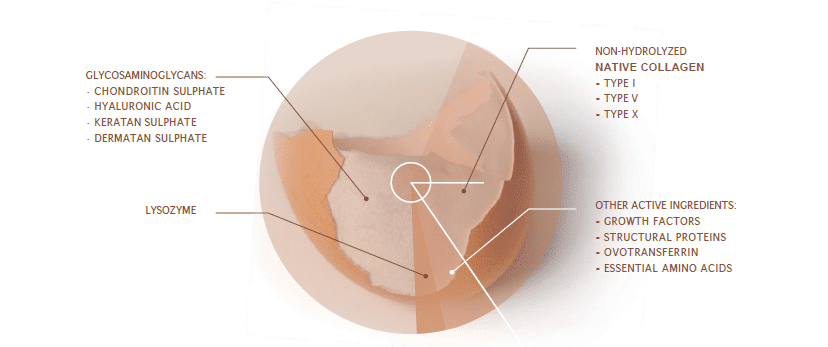 APPLICATIONS
Skincare

Inflammatory processes and joint pain (arthritis, tendinitis, polychondritis etc)

Bone and joint degenerative processes (degenerative osteoarthritis, osteoporosis etc)

Post-operative connective tissue regeneration
MORE INFORMATION
---
SOURCES
©Innain by Torolis, reproduced with permission