Tocotrienol, a super form of vitamin E.
Tocotrienols are superior members of the vitamin E family with up to 60x higher antioxidative properties than alpha-Tocopherol. DavosLife E3 Tocotrienols is a natural Vitamin E comprising the full spectrum of Tocotrienols and α-Tocopherol. It is a potent bioactive for use in topical applications and oral beauty supplements. Davos Life Science products are naturally derived from non-GMO palm fruits, sourced directly from RSPO-certified plantations, and manufactured in an RSPO-certified facility.
DavosLife E3 range of Tocotrienols are versatile, multifunctional bioactive ingredients:
They provide potent antioxidant protection from oxidative stress.
They reduce inflammation in the skin.
They have unique skin brightening properties, which alpha-Tocopherol does not.
They upregulate COLI and COLIII genes to stimulate collagen production.
They are more effective at attenuating PM 2.5-induced oxidative stress and inflammation on the skin compared to alpha-Tocopherol.
They may help to restore skin barrier function impaired by PM 2.5 exposure, a property which alpha-Tocopherol does not share.
This multifunctional efficacy enables formulators to use fewer ingredients and allows multiple applications:
Anti-ageing

Anti-pollution

Blue Light Protection

Suncare

Skin Brightening / Lightening
DavosLife E3 Tocotrienols have been granted ECOCERT Greenlife attestation in accordance with COSMOS Standards and complies with all major international regulatory standards on Persistent Organic Pollutants and other contaminants. Assessments conducted by the Cosmetic Ingredient Review (CIR) Expert Panel concluded that Tocotrienols are safe to use in cosmetics.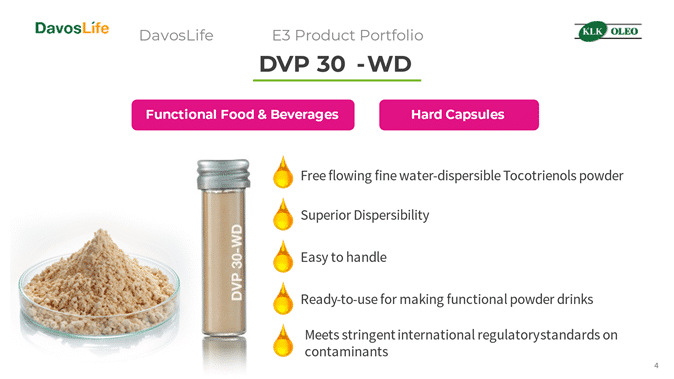 MORE INFORMATION
---
SOURCES
https://www.klkoleo.com/davoslife
©Davos Life Science/KLK Oleo, reproduced with permission